Queen Creek Fence
Your Queen Creek home or business can have a dramatic makeover with the installation of a high-quality wrought iron fence from Sun King Fencing and Gates. Since 2002, we have been helping Queen Creek residents with the design, fabrication and installation of beautiful wrought iron fences.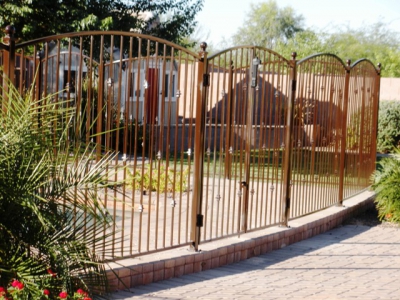 Wrought iron fences allow you a great deal of versatility. Not only can they make a bold and dramatic statement, but they can also provide a great deal of security. We have helped Queen Creek home and business owners with the design and installation of custom decorative fencing, pool safety fencing and security fencing. Let us help you create a beautiful wrought iron fence for your Queen Creek home or business today.
To learn more about the types of fences that Sun King Fencing and Gates can fabricate and install at your Queen Creek home or business, please click on the links provided below.
Sun King Fencing and Gates works directly with each customer that we have in Queen Creek. Before we start fabricating a new wrought iron fence for you, we want to come to your home or business to ensure that a proper fence is created. We will talk to you about your design thoughts, show you the latest products available, and take accurate measurements. We take all of this information and put together a comprehensive bid that will transform your dreams of a wrought iron fence into a reality.
Queen Creek Fence Features Provided by Sun King Fencing and Gates Decorative Baskets
Finials
Variety of Bar Spacing
Twisted Solid Steel Pickets
Pinched Pickets
Variety of Metal Thickness to Meet Your Security Needs
Custom Lettering and Numbers
Plate Steel or Perforated Steel Backing
Decorative Italian Scrolls
Ornamental Iron Arches
Knuckles
All of the wrought iron fences that we create are fabricated at our plant in Gilbert. We never outsource any of the fabrication work or use pre-constructed fence sections from other manufacturers. We use a staff of skilled welders that precisely cut high-quality steel and professionally weld it together to produce a durable and long lasting wrought iron fence. After it is fabricated, we apply an epoxy-based primer followed by an environmentally safe polyurethane paint in the color of your choice that gives your new wrought iron fence a hard shell to protect it from the rays of the sun and hard water damage.
Sun King Fencing and Gates is licensed, bonded, and a registered contractor with the State of Arizona assuring you a professional installation with high-quality products. We are also proud of our excellent standing with the Better Business Bureau with an A+ rating. Sun King Fencing and Gates is also the Certified Partner for fences and gates on the "Rosie on the House" radio show and referral network.
Estimates on wrought iron fencing are always provided on a timely basis. Each Sun King Fencing and Gates estimate is easy to make adjustments or modifications to in order to provide your Queen Creek home or business with the wrought iron fence that you require.
Sun King Fencing and Gates is proud of our wrought iron fence fabrication and installation. They have made our Queen Creek customers happy. To see what our customers have said about Sun King Fencing and Gates, please click on
Client Testimonials
.
Sun King Fencing and Gates would be more than glad to help you design a custom wrought iron fence to meet the exact needs of your Queen Creek home or business. We will then provide professional installation of your new wrought iron fence. To find out how we can help you, give us a call at 602-989-0839. You can also reach us with any Queen Creek wrought iron fence questions through our contact form provided below.